Where is it?
The Search for Morrison's Lost Shelby
I started to wonder a few years ago when the search for old Shelby's started to be part of my life. I watched "Love Story" and remembered a 66 GT 350 parked on a Boston street. This was before VHS so I couldn't rewind the tape and check out the car a second time.
I recall being talked into watching a Jane Fonda movie once and seeing a 67 GT 350 in the background. It was wimbledon white and I was able to catch a quick glimpse of the car.
Then one Saturday night I watched "Bullitt" on TBS. My older brother kept on mentioning to me to make sure to wait for "The Chase". Finally when McQueen jumped into his 68 Mustang I knew what he was referring too.
I was at a Los Angeles cruise night a few years back checking out a white 1967 GT 500. The owner and I started talking about Cobra's and Shelby Mustangs.

"Only a few miles up the road Jim Morrison hit a pole one night with one of these". "You mean Jim Morrison of the Doors" I asked.
One of the problems researching a car accident from forty years ago is the false information out there.
Rumor had it that Electra Records purchased Jim Morrison of "The Doors" a night mist blue 67 GT 500 for his fine work on the album "The Doors".
Morrison had a reputation of abusing just about everything he touched and with that in mind the GT 500 sat on Wilshire Blvd in Los Angeles just waiting for something to happen.
And it did.
One Friday night Morrison, driving recklessly, hit a telephone pole on Sunset Blvd and proceeded to jump out of the car and started to inspect the damage.
Frustrated, he walked up the road to the Whiskey A- Go-Go and continued his evening.
Hours later he walked back to the Shelby and by now the car was gone.

Now the mystery starts.
According to some, he never followed up on the accident or who towed the car.
Touring with a popular band in the 1960's Morrison had many distractions and a minor car accident probably wasn't his biggest priority.
Another interesting story worth mentioning is the LAX connection.
Morrison drove the Shelby to Los Angeles International Airport and left it there for an extended period of time while he was traveling.
When he returned the automobile was already towed away and sold at public auction.
Another persistent story I heard was that the GT 500 was resold many times in Southern California and no one really knew the history of the car. It had been in numerous accidents and didn't have much left to it.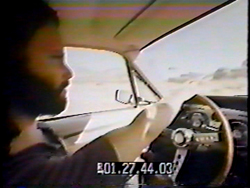 Finally on its last leg it made it to the crusher in the early 1980's.
This writer was contacted in 2005 by a woman from the Phoenix area who asked many questions about how she'd identify a very famous 67 Shelby owned by a "deceased rock star". I pressed the woman for more details however she suddenly became rather evasive and ended the call quickly.
I realized after the Phoenix call that even if the car was in front of me I couldn't tell if it was Morrison's or not.
I was confident it was a night mist blue 67 GT 500 but I needed much more than that.
With the help of Kerry Humphreys, publisher of "The Doors Collectors Magazine", I was able to contact Frank Lisciandro who was a personal friend of Jim Morrison.
Mr. Lisciandro came into possession of many documents of Morrison's when he died in Paris in 1971.
One of the documents was an original registration for a "1967 GT 500" from 1969.
"Whose name is on the registration" I asked.
"James Douglas Morrison"
After lengthy negotiations Tango Classic Auto's was able to purchase the original registration with the much needed vehicle identification number.
Tango recently came in possession of a film with Morrison driving his 67 GT 500 and it was indeed nightmist blue. And there is no doubt that it's a four speed. For the record, he was beating the hell out of it.
It's been about 40 years since this Shelby was running around Hollywood however just recently I had an interesting conversation concerning this piece of history.
For the time being, I'll keep that discussion to myself.
Bret Matteson
www.capecodmustang.com
February 28, 2011
---